UK Accredited Online Engineering College
Flexible online engineering courses and qualifications
Engineering Qualifications at iLearn Engineering®
iLearn Engineering® provide online engineering courses aligned to the following three engineering qualifications:
What Are these qualifications?
The main characteristics common to all of these engineering qualifications are that they are:
designed for online delivery to anyone anywhere in the world
aligned to the the UK Higher Education framework at levels 4 and 5
accredited by a UK awarding body
open access (meaning no pre-requisite qualifications are required)
aiming to improve employability of learners in an international engineering context
provide a stepping stone to higher qualifications such as graduate diplomas, bachelors degrees etc
The main differences between these qualifications are their credits and levels.
The image below shows how these different qualifications compare in terms of their credits.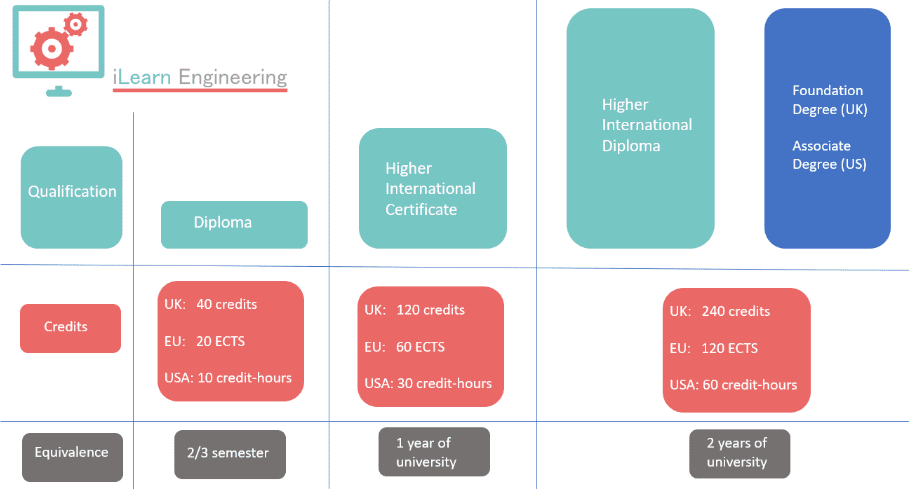 Comparison of Qualification Credits
The Higher International Certificate and Higher International Diploma qualifications have their credits aligned to year one and years one and two respectively of undergraduate study. Whereas the Engineering Diploma is 40 credits, and thus represents a 'shorter' course option, but still satisfies the requirements for an accredited Diploma at levels 4 or 5.
The differences in qualification levels can be seen with reference to the image below.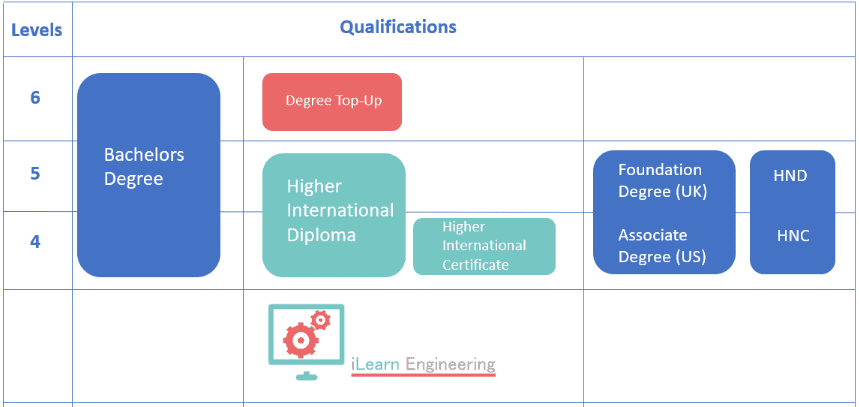 Comparison of Qualification Levels
The Higher International Certificate is aligned at level 4 and therefore is benchmarked to the first year of undergraduate study. The Higher International Diploma envelopes the first two years of undergraduate study, and is therefore benchmarked to similar qualifications such as a Foundation or Associate degree.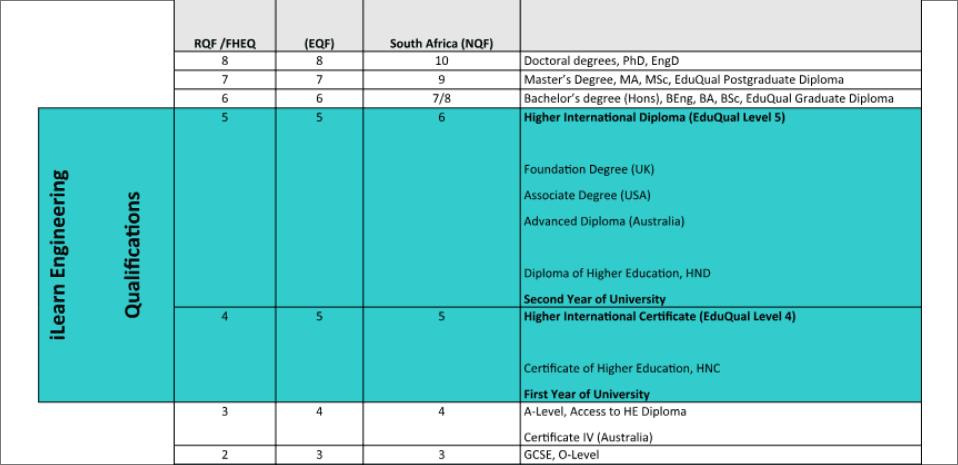 It is important to remember that the terms Award, Certificate, Diploma and Higher International Diploma do not relate to progression, rather they are indicators of how long a qualification will take to complete. For progression, we need to refer to the 'level' of a qualification.
Thus, the Higher International Diploma offered by iLearn Engineering® is accredited at EduQual Level 5 to bring it in line with Foundation and Associate degree level qualifications.
For example, let us take the following course from iLearn Engineering®:
Higher International Certificate in Aerospace Engineering (EduQual Level 4)
Course Structure: 120 Credits
Total Qualification Time (TQT): 1200 hours
Total Guided Learning Hours (GLH): 480 hours