UK Accredited Online Engineering College
Flexible online engineering courses and qualifications
Higher International Diploma
Credits: 240 | Level 4-5
A Higher International Diploma is a higher education qualification accredited at level 5 with 240 credits and is benchmarked to national qualifications such as a HND or the first two years of a UK university which is often referred to as a Foundation Degree or Associate Degree.
The initial 120 credits match that of the Higher International Certificate and upon completion of 120 credits at level 4, learners progress onto a further 120 credits at level 5.
The Higher International Diploma is a practical solution for anyone that can not attend college or university in person.
This accredited online qualification is aimed at learners that are either already in employment and are looking to make a career change into the engineering sector or are already working as an engineer or technician and are looking to improve their prospects for working at a more senior level within the engineering industry.
Qualification Comparisons:
The images below show various qualifications at different levels with the Higher International Diploma at Level 5 alongside other similar qualifications such as a HND, Diploma of Higher Education, Foundation degree or Associate degree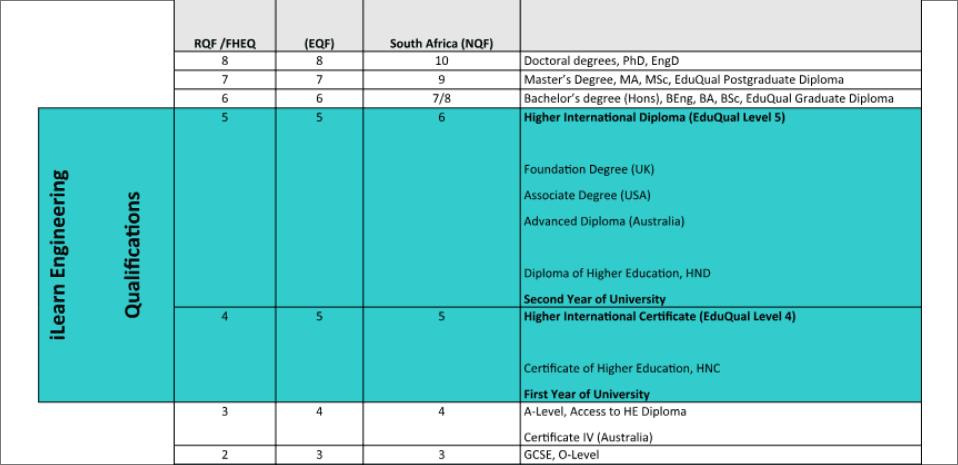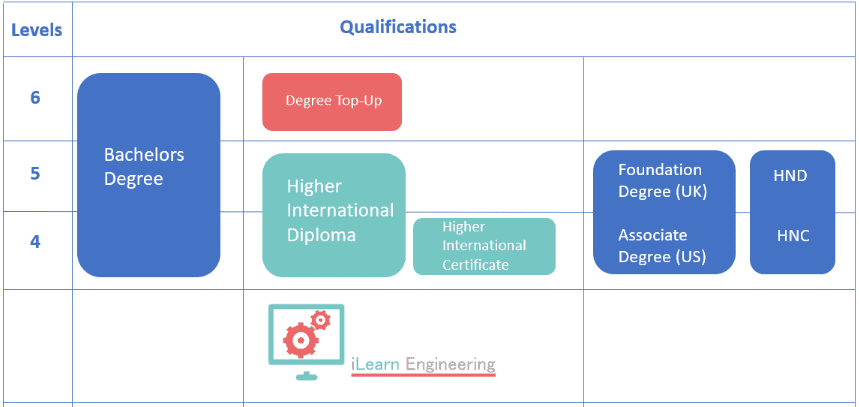 Disciplines
You will find one of the largest collections of Higher International Diplomas in the engineering sector available in one place, right here with iLearn Engineering®. Available in all the major engineering disciplines such as Mechanical, Electrical and Electronic, Manufacturing, Aerospace, Civil, Computer or as a non-specific General Engineering qualification.
Duration
Learners typically take 12-24 months to complete these courses, although you are in control over how long it takes.
How will a Higher International Diploma Develop My Understanding of Engineering?
A Higher International Diploma qualification is awarded to students who have demonstrated knowledge and critical understanding of the principles of engineering and technology at an advanced level.
The qualification holder has demonstrated that they have the ability to apply underlying scientific concepts in a variety of theoretical and practical scenarios including in an international employment context. Moreover, they will be able to evaluate critically the appropriateness of different approaches to solving problems in engineering and technology.
Typically, holders of the Higher International Diploma qualification will be able to use a range of established engineering, mathematical and scientific techniques to analyse information and problems and to propose efficient and practical solutions. In addition, learners will be competent in communicating information and arguments to specialist and non-specialist audiences.
Furthermore, as part of the Higher International Diploma, you will undertake a significant engineering project, as well as studying management principles. This demonstrates to employers your technical and project management skills, positioning you for senior roles in the engineering industry.
Careers
The Higher International Diplomas delivered by iLearn Engineering® are specifically developed for online learning and to prepare learners for the world of work in an international stage. Therefore, graduates of the Higher International Diploma are highly valued by employers and completion of this qualification can lead to employment and/or promotion within the engineering industry globally.
Holders of a Higher International Diploma qualification will have developed a skill set for employment in situations requiring the exercise of personal responsibility and decision-making and therefore will be suited for technical management, engineering specialist roles and senior positions in the engineering industry.
Holders of this qualification typically recognise the need for lifelong learning to develop existing skills and acquire new competences that will enable them to assume significant responsibility within engineering organisations.
Progression
The Higher International Diploma can offer a great route to a higher qualification such as a Graduate Diploma or Bachelor's degree as it can often be 'topped-up' with extra studies at a later date.
Delivery:
Courses are 100% online distance learning delivered via bite-sized learning plans including short videos, worked examples, e-workbooks and practice questions.
Assessment:
Assessment is via written assignments.
There are no exams, no timetables and no deadlines to adhere to. Students learn at their own pace in their own time.
Support:
Full tutor support is available via email, message, voice and video-call.
iLearn Engineering® Faculty staff consist of a blend of academic lecturers, practising professional engineers and scientists.
Entry Requirements:
Online courses in engineering to study for the Higher International Diploma are 'open access', meaning that anyone can enrol. We teach you all of the fundamental engineering mathematics, design and scientific principles that you need to succeed with the specialist aspects of the qualification.
Accreditation:
Higher International Diploma courses are accredited by a UK Awarding Body.